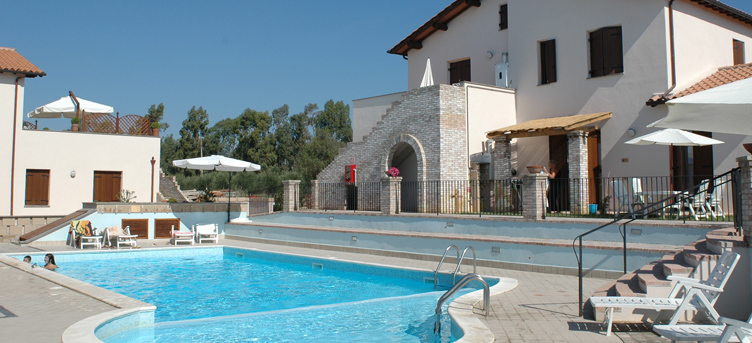 This set of buildings in this small tourism centre were designed to recreate the atmosphere of a Tuscan village, and consist in five small villas situated at just 500 metres from the sea.
Each villa, built from highly ecological materials, is divided into four apartments (two-roomed and three-roomed), all on the ground floor and each one enjoying a portion of the garden, fully equipped with tables, umbrellas and chairs.
The shared spaces, the little piazza and the 90 sq mt pool are all situated at the centre of the village, similar to the old farmyards of the past.
There is a splendid avenue of pine trees on one side of the complex leading to the main villa, then continuing to the fringes of the famed Montoni nature park.
The apartments (14 two-roomed and 4 three-roomed), classified as "Tourist Hotel Residences", measure between 40-45 sqm and comprise: a spacious lounge with kitchen corner, bathroom and furnished outdoor veranda, one double bedroom (the 3 roomed also has a single bedroom).
The Borgo also has "Tourist Residences" of 65 sqm, all bar one of which are on the first floor and come with large furnished terraces with sea and / or countryside views. All rooms have mosquito screens and climate control. With two double bedrooms and a large lounge with kitchen corner they too can sleep 5 +1. All the furniture is hand made in wood.
There is also a spacious communal room available for guests next to the reception area.